A reunion with the boys of St. Valentines
December 16, 2015
The boys of St. Valentines orphanage have held a very special place in my heart for decades. When visiting Cameroon, I make sure we stay within walking distance of the orphanage so I can easily visit without having to rely on transportation.

Walking down the hill to the orphanage from our hostel, I have to hold myself back from sprinting. I've walked this road countless times over the past 20 years and although the original structure that lacked a roof, water and electricity has expanded, the path to get there remains unchanged.
The original boys are now grown (and some married!), but there are – heartbreakingly – always more boys to visit. More boys who have been forgotten, abandoned and unloved by everyone else. I can't forget them. I will never abandon them. I will forever love them.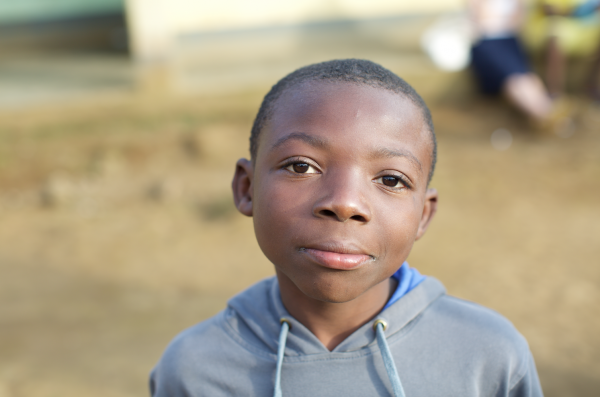 It took years for the original boys of St. Valentines to trust and open their hearts to me. Their lives were filled with broken promises and disappointment. But I never gave up on them. Instead of saying goodbye, I always promised them that we would be together again soon. Sometimes "soon" took many months, yet I always kept my promise.
Eventually they began looking forward to my visits, believing I really would return. At first they were shy and cautious around me, but on one visit they started referring to me as "mom" and on another they let me hold their hands as they told me their stories. Like any parent, I listened without judgement, only unconditional love. Slowly we became a family.
As I approach the dirt path leading into the gully where St. Valentines sits, I hear the boys announcing my arrival; like a sixth sense, they know I'm close. Soon I'm surrounded by bright smiles and shining eyes – nine children trying to snuggle into my outstretched arms, every one of them eager for a hug.
"You're here!" they exclaim. What they really mean is, "You kept your promise."
We spend many evenings at St. Valentines on this trip. We watch a movie projected on the wall and I find myself with a boy under each arm, two on my lap, two at my feet and another couple on either side. On another night we bring them a "Canadian Dinner" (spaghetti and baked chicken). Meat is available to them only once a month, so we bring heaps of chicken along with a vat of spaghetti and platter of fresh fruit. I sit back and watch them savour every bite of their dinner, all of us wishing they could eat like this every day.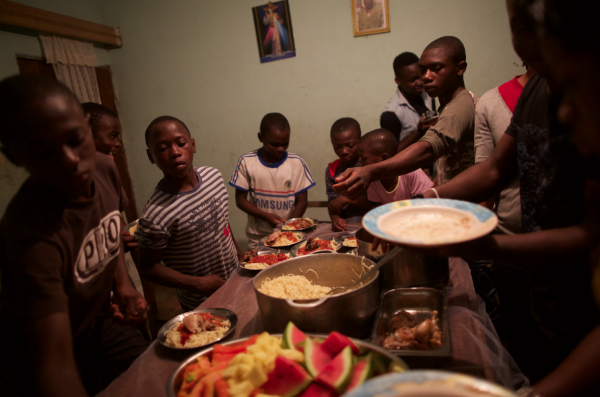 When it's time to leave, the older boys escort us up the hill to the main road. We walk slowly, arm-in-arm, as we watch the fireflies light up the night sky. Our progress is slow – nobody is ready for the evening to end.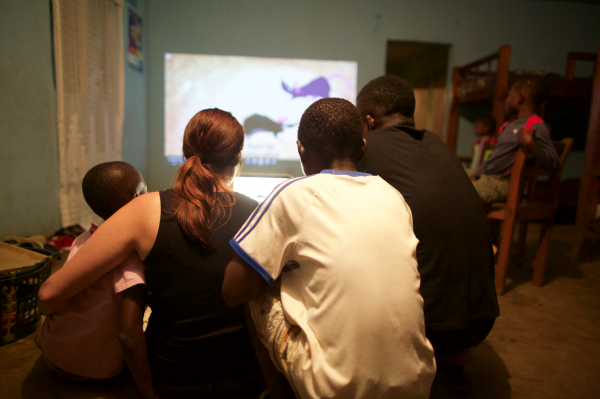 On our last night, I will tell these boys truthfully that I've thought of them every single day leading up to this moment. They are my sons. I love them all. I will always come back.

I will never break my promise.

— Treana Peake, Founder, Obakki Foundation